Welcome to our Rector Search and Transition Page.
We are excited to join in a new partnership with a new rector, and invite you to share with us in transforming our challenges into blessings – moving into the future with hope and joy. Just as you are discerning this call, we also are discerning the best ways to be faithful stewards of all that God has given to us.
We warmly welcome you into this discernment process. We know that God has given you special gifts and experiences that are unique to you, and look forward to exploring what you might bring to this ministry that will strengthen and stretch us. We are praying for you, and ask that you pray for us, as we discern together our call at St. Martin's and in the larger church. May the Holy Spirit guide us on our journey.
Transition and search documents
The application period for this position has closed. Please direct your questions to the Canon Andrea MacMillan at andrea@norcalepiscopal.org.
To apply, please send …
an OTM profile
resume of not more than 2 pages
two sermons as PDF and, if possible, audio/video link to your sermons,
and a one page essay describing  what is drawing you to this call at this time.
Send all materials to Jacqi McKinney, Administrative Assistant to Canon Andrea McMillin at jacqi@norcalepiscopal.org . In the email subject line include your name + St. Martin's Rector Search.
Deadline:  April 18, 2017 (new improved deadline that's not in the middle of Holy Week)
To inquire about this position or about the diocese, please contact Canon Andrea McMillin at andrea@norcalepiscopal.org or by phone, 916-442-6918 ext. 214
The link to the Diocesan Open clergy positions page is: http://www.norcalepiscopal.org/open-clergy-positions
Thoughts about the transition:
Parishioner Tom Smith, a retired Presbyterian pastor trained in intentional transition ministry, offers comments on the function of transition ministry.
Applicant Review Committee
Lisa Leigh (chair), Gabe Avila, Diane Bamforth, Carolyn Chamberlain, Abby Gratzer-Owens (Vestry representative), Elise Keddie, Michael Lewis, Susan Lugo, Jeff Staniels (Vestry representative), Carla Harris (Chaplain).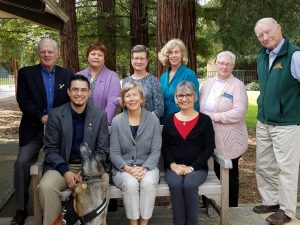 Back row: Jeff, Diane, Elise, Lisa, Carla, Michael; middle row: Gabe, Carolyn, Susan; front row: Shadow. Camera shy: Abby (but look on the Vestry page).
Profile Committee
Lynn Zender (chair), Carla Harris (chaplain), Carol Chandler, Carole Hom, Robert Lynch, Judith Stanley, Scott Stockburger, Shipley Walters.
(decommissioned on 12 March 2017)