Audio technology volunteers record Sunday services and post the recordings on the church website as podcasts. For some homebound parishioners, these podcasts provide a substantial and meaningful source of comfort that helps them remain connected to the parish community.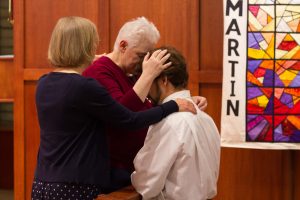 Healing Ministers are licensed lay ministers who offer anointing, laying on of hands, and prayer for the heal- ing of body, mind, and spirit during Holy Communion on Sundays.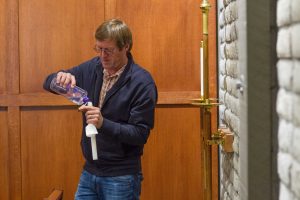 The Altar Guild prepares the altar for three regular Sunday services, for special services, and for the weekly Tuesday Healing Eucharist. They periodically polish the silver vessels used at Eucharist and brass pieces used throughout the liturgy. Come join us!
The Flower Guild provides floral arrangements for the altar for all services and seasons, with additional supplemental arrangements at Christmas and Easter. We welcome all volunteers!
Eucharistic Ministers and Visitors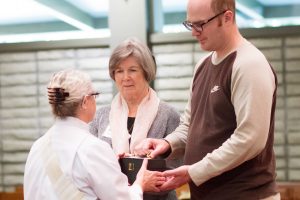 At all services on Sunday, lay Eucharistic Ministers assist clergy with serving wine at communion.
Licensed Eucharistic Visitors go out in pairs to bring bread and wine — the  elements of Eucharist — to homebound parishioners. This important caring ministry provides a link between the congregation gathered for worship and those who, for reasons of health, cannot be present. To schedule a visit, please contact the church office.
Ushers, Greeters, and Acolytes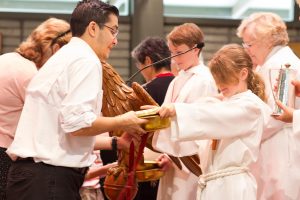 Ushers help keep the liturgy flowing smoothly at Sunday services, and work in concert with Greeters, who provide a friendly welcome to visitors and newcomers. Do you enjoy chatting with people? Talk to one of the clergy about becoming a greeter!
Acolytes assist clergy by carrying the cross and torches in procession, and help with setting the altar at Eucharist. We welcome children in fourth grade or higher and adults to serve as acolytes.