We at St. Martin's are a faithful people intent on living the words of our baptismal covenant and the Jesus Movement.
All are welcome at our church.
Whether you are questioning, doubtful; whatever your tradition; or wherever your journey of faith has taken you, you are welcome.
Whether rich, poor, young, old, or in between, by yourself or with a family, we welcome and will support you.
All genders, gender identities, sexual orientations, races, ethnicities, abilities, traditions and languages spoken are welcome at St. Martin's and we will defend and love you.
We strive to care for God's creation, growing our local eco ministries.
We strive to support all those who seek our help.
We strive to support and advocate for the marginalized and immigrant communities.
We strive to support our youth, young children, students, unpartnered, families, elderly and those who feel ignored and alone.
We strive for our actions to follow our words, and for our advocacy to give life to our ministry.
We say and will do all these things in the name of The One who walked among us. Amen.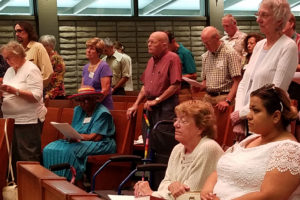 God of justice and peace, you stand with those who are poor,
You ask us to be the voice of the voiceless,
We call upon you for those who have suffered from injustice
Of war and greed, from the depths of our being, we cry to you
Creator God, you know what we need, with or without our words.
Hear our prayer and hear our silence.
You are the God of strength and wisdom, help us to trust in you and follow you to places where we are challenged and changed.
Adapted from The New Women Included: A Book of Services and Prayers, The St. Hilda Community, SPCK Holy Trinity Church, London (1996), page 44.
St. Martin's reaffirms its long-standing and deep commitment to social justice ministries. Recently, we have engaged in deep reflection about who we are as a community. We yearn to act as Jesus' hands and heart in the world. We feel called to stand for and to stand with those who are marginalized. Our Baptismal Covenant affirms this call to seek and serve Christ in all persons, to strive for justice and peace among all people, and to respect the dignity of every human being. It is from this place, this deeply rooted need for action in the face of injustice, that we offer the accompanying commitments. We pray that as a community, we may become a vehicle through which Christ will transform the world around us, and through us, that we might see ourselves transformed. We invite you to join us on this path.