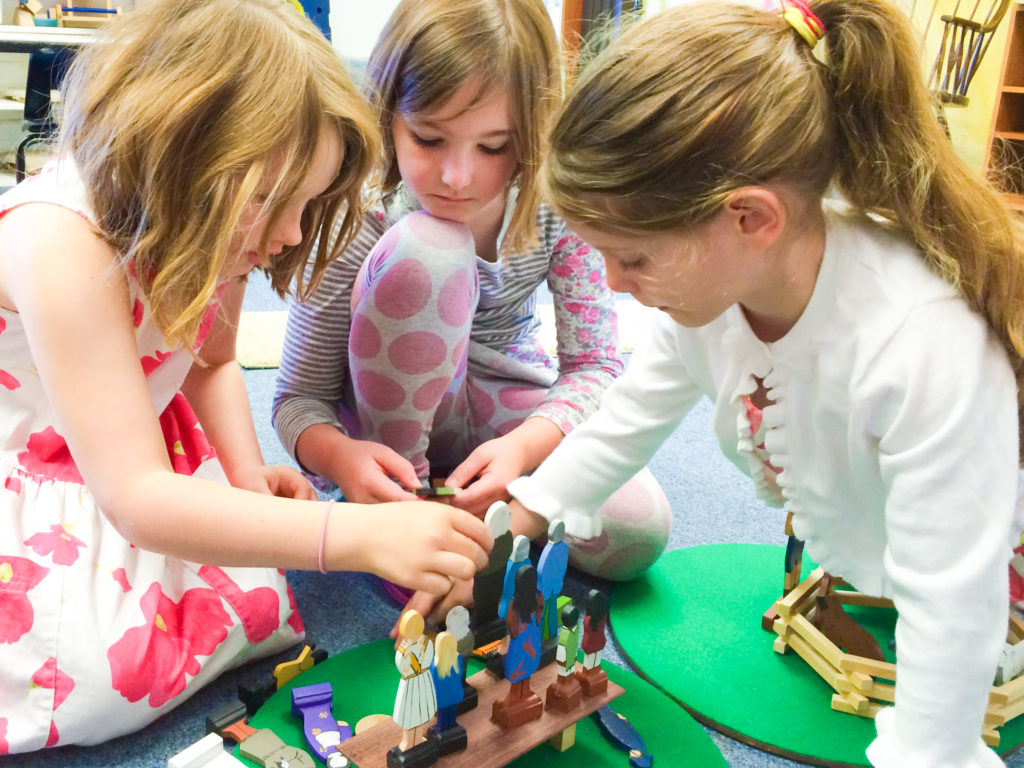 Children's Gathering and Playtime
Sundays 8:45 AM – 9:30 AM, on the deck outside Dona Brandon Music Room 
If you are attending Adult Formation or adult choir rehearsal, bring your children for welcoming music and active play with Janie Howard Knudsen, Children's Music Ministry Director. This is a fun time to sing, play instruments, play outdoors (weather permitting), and get ready for Godly Play beginning at 9:30 AM.
Godly Play
Grades TK-6: Sundays, 9:30 AM – 10:30 AM, Room 4
Children have an innate sense of the presence of God. The Godly Play approach helps children to explore their faith through story and ritual, to learn religious language to express their growing faith, and to enhance their spiritual experience through wonder and play. Children are guided by a team of trained storytellers and doorkeepers, led by Diane Bamforth and Abby Gratzer Owens. After Godly Play, some children will join their parents and caregivers in the Sanctuary at Holy Eucharist Rite II; those in the Children's Choir will move to Dona Brandon Music Room 9. Parents and caregivers may also pick up children at Room 4 at 10:30 AM. For mo.re information about Godly Play, visit http://www.godlyplay.org/.
Children's Choir
Grades 3 – 6: Sundays, 10:30 AM – 11:30 AM, Dona Brandon Music Room 9
Our Children's Choir provides an opportunity for children in grades 3-6 to learn choral music, develop musical skills, deepen their faith, and share their gifts with our congregation in worship. Led by Janie Howard Knudsen, Children's Music Ministry Director, the choir uses the Voice for Life curriculum developed by the Royal School of Church Music—with a magical touch inspired by the Harry Potter's Hogwarts School! Children learn and rehearse every Sunday at 9:00 AM, join in worship at 10:30 AM, and perform an anthem in worship once a month. For more information about Voice for Life, visit http://www.rscmamerica.org/voice-for-life.php
For More Information
Please contact Jim Schaal, Christian Formation Chair, at formation@churchofstmartin.org or 773-818-1143.  We welcome your suggestions for lifelong learning and faith formation here at St. Martin's.