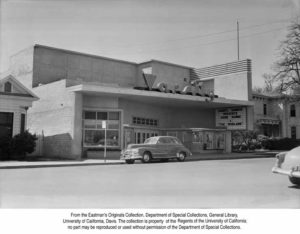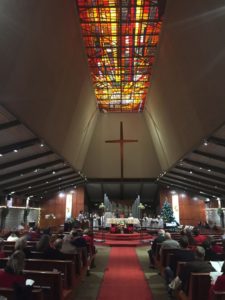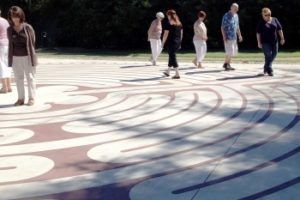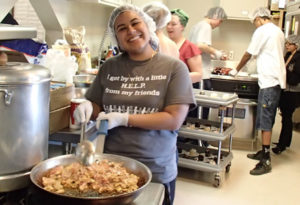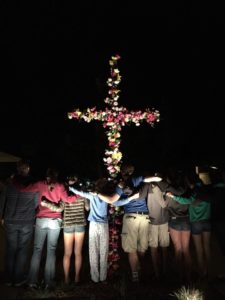 The Church of St. Martin held its first service on September 20, 1953, in the Varsity Theatre in downtown Davis, with the marquee displaying 
From Here to Eternity
 as the main feature. Davis was a small university town, just entering a period of rapid growth. There was no Episcopal church in town. A group of Episcopalians missed the familiar liturgy, and wanted an Episcopal Sunday School for their children. In only five months, this group had gathered enough signatures, pledges of money, and volunteers to convince Bishop Noel Porter of the Diocese of Northern California to establish a mission church in Davis.
In March 1953, the group began working to get their church. They selected six men to serve on a Bishop's Committee; they raised money to pay a priest; and they received money from the diocese to support an Episcopal ministry for university students.
By the late 1950s, times were changing. Bishop Porter retired in 1957, and a new bishop, the Right Reverend Clarence Haden, was elected. Bishop Haden realized that the population of Davis and the university were increasing rapidly, and he had high hopes for St. Martin's. In the fall of 1961, he appointed the Reverend William G. Burrill and urged him to build up the congregation and student ministry. Reverend Burrill remained at St. Martin's for 20 years. He was succeeded by the Reverend Mark Lowell Starr (1983-1988), the Reverend Barry Leigh Beisner (1989-2002), and the Reverend Mark Francis Allen (2004-2016).
During the Reverend Burrill's time, the church and Sunday School flourished and soon outgrew their cramped quarters on First Street. In 1962, parishioners persuaded the diocese to buy a large lot at 640 Hawthorn. In 1963, the church built a three-room classroom building and a parish hall in which they held services for four years. The sanctuary was completed in 1967 and St. Martin's became a fiscally independent parish in 1974.
While shepherding St. Martin's through a period of tremendous growth, the Reverend Burrill also integrated outreach and music deeply within the culture. He hired the first choir director and provided an environment in which the music program could develop, and for decades, the parish used folding metal chairs for sanctuary seating so that they could allocate pledge dollars to outreach rather than furnishings. This dedication to outreach and music continues to this day.
Over the years, additions and improvements to the physical plant transformed St. Martin's. The Reverend Beisner guided the parish through functional additions funded by two capital campaigns and several memorial gifts: new classrooms and a large deck (1993), construction of an Administration Building with four offices and Blanchard Library (1998), and parking lot lighting (2000). Further, he believed that aesthetics in the worship space were integral to glorifying God. The parish was able to replace the cold, noisy, and uncomfortable folding metal chairs with wooden pews (1992) and beautify the altar and sacristy walls (1997).
Under Interim Rector the Right Reverend George Hunt, St. Martin's joined Episcopal Power and Light (now Interfaith Power and Light), added solar photovoltaic panels to the administration building, and was certified by Integrity as a Welcoming Parish in 2003.
During the tenure of the Reverend Mark Allen, we continued to make improvements to the physical plant while furthering St. Martin's tradition of outreach. In 2010-2011, another capital campaign supported improvements to the sanctuary and the addition of a narthex with a baptistry. As part of this effort, the parish hall and kitchen were remodeled and upgraded to provide more functional, energy-efficient, and attractive space. The building is central to St. Martin's outreach efforts –  it is used by Davis Community Meals and Housing for three meals a week.
As St. Martin's has grown in Christ, we have developed new ways to welcome, heal, nurture, and serve. The laity has always played a strong role at St. Martin's. People of faith founded the church in 1953, and people of faith have given their time, talent and treasure ever since to keep this church going and to care for those in need in Davis and the world. St. Martin's has reached out with funding and volunteer aid to people in our region, in Africa, Central America, and on Native American communities in the U.S. Our buildings are used each week for parish activities and by community groups such as Alcoholics Anonymous, Boy Scouts, and Davis Community Meals and Housing. Over the years, our classrooms have been used by various groups, including a Special Education program of the Yolo County Office of Education and the International Parent-Child Learning Center. Church members serve on the Vestry and on groups that work behind the scenes. They sing in the choirs, make blankets for the wider community, hold an annual craft fair, barbecue, pull weeds, serve refreshments after services, feed the hungry, nurture our children and youth, and do myriad other things in Davis and beyond. We are an active group!