Commissioned lay leaders in the parish include the Vestry, Ministry Council, and committee chairs.
The Vestry
In the Episcopal Church, the Vestry comprises the governing body of the parish.
St. Martin's Vestry consists of 12 members who serve staggered three-year terms*. The Vestry strives to balance each incoming cohort for representation among the three services and all age groups, and for gender balance. Members are not eligible to serve consecutive terms. Since the mid-1990s, the Vestry has been elected by acclamation as a slate of candidates.
The Vestry meets in the Blanchard Library at 6:30 pm on the third Tuesday of each month. All are welcome.
2017 Vestry
Heather Baugh, Senior Warden
Janet Lane, Junior Warden
Neil Willits, Clerk
Nora Braun
Carol Chandler
Abby Gratzer-Owens
Karen Reiser
Susan Sabatier
Brian Shontz
Jeff Staniels
Anna Steel
Frank Wagner
Julie Knudsen serves as St. Martin's Treasurer.
You can reach the Vestry by using the email address: vestry@churchofstmartin.org.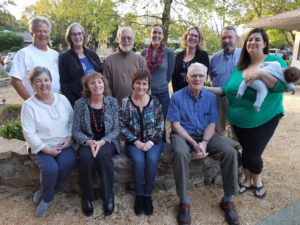 Ministry Council
St. Martin's Ministry Council serves to empower our varied ministries, streamline communications among lay leaders and clergy, and foster more effective cooperation across ministries. The council consists of five lay people, each serving as chair of a corresponding Ministry Commission, assisted by clergy advisors. The Commission Chairs, in turn, will be responsible for convening their respective commissions with leaders from relevant ministry programs.
Click here for more information about the Ministry Council.