St. Martin's grounds includes spaces for people of all ages and interests.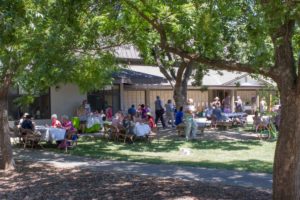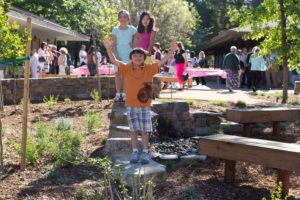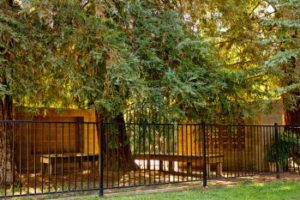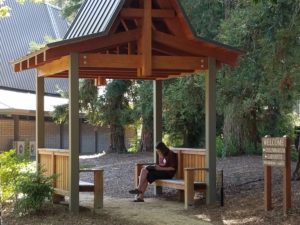 Our

grounds 

include lawns and patios for play and community gatherings, and trees, benches, and quiet areas that facilitate contemplation and prayer.

St. Martin's meditation garden, designed by parishioner Greg Webber with input from parishioners via several planning workshops, includes drought-tolerant plants, a recirculating naturalistic water feature, and low stone walls that serve as benches (and double as climbing structures).  It augments our community space for parishioners of all ages and, during the week, functions as a quiet green place that attracts both wildlife and people from the wider community into the church grounds.

Our columbarium and labyrinth provide contemplative outdoor spaces, with seating and shade provided by mature redwoods. The columbarium currently contains 120 niches and offers a peaceful and dignified space for the cremated remains of loved ones. The labyrinth, modeled after the labyrinth in Chartres Cathedral, was built in November 2009 by a team of parish volunteers under the direction of labyrinth designer and artist Robert Ferré. The labyrinth is accessible to the public from the street by a decomposed granite path that invites relaxation. Our labyrinth is open to the public from dawn to dusk. All are welcome, and we hope it will bring insight, peace, and renewal to all who walk its path.

The lych gate serves as a gateway from the front of the church grounds to the columbarium and labyrinth and serves as a covered seating area for small groups or individuals who wish to enjoy the tranquil beauty of our grounds.